It's summertime!
Summer brings warm, sunny days that last late into the evening. Outdoor activities, vacations, and family gatherings provide plenty of opportunities to make the most of these beautiful days.
As it heats up, it is time to pull out your summer styles. Away with the bulky sweaters and out come the flirty dresses!
What is the best kind of jewelry to highlight your cute summer outfits?
Contemporary acrylic jewelry is a fabulous choice for this steamy season. It is lightweight and can be formed into hundreds of bright-colored, fun creations. KiviMeri has some gorgeous examples of designer pieces that would be great additions to your summer collection.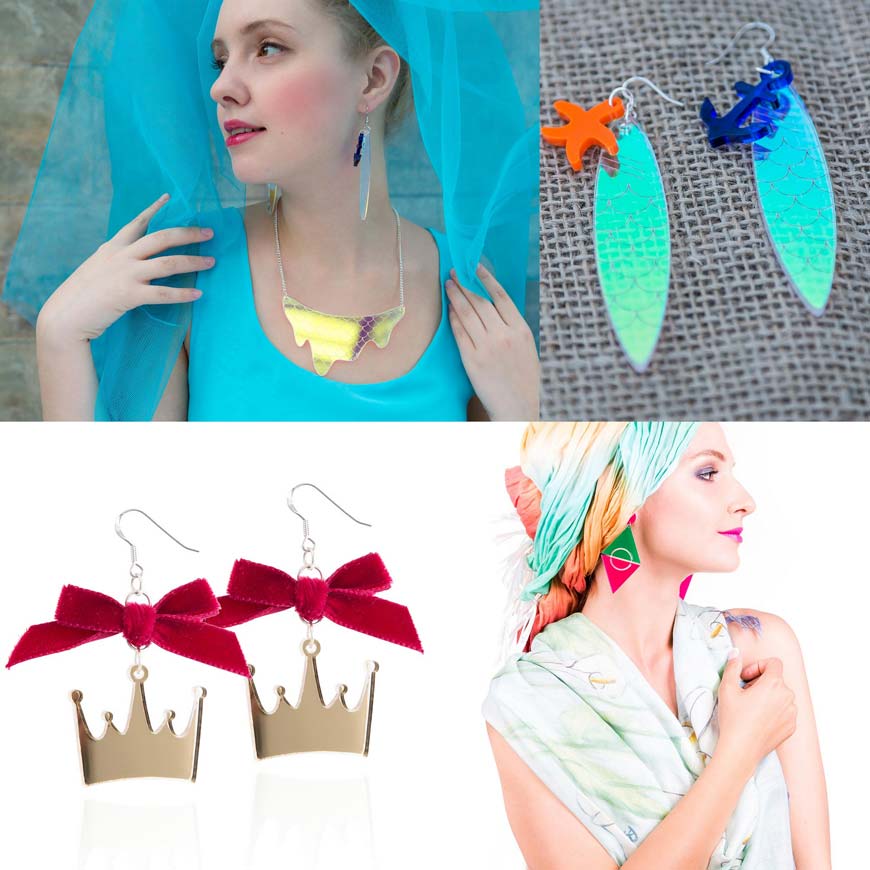 Mermaid Necklace http://www.kivimeri.com/shop/mermaid-necklace/;
Nautical Earrings http://www.kivimeri.com/shop/nautical-earrings/;
Bow Earrings http://www.kivimeri.com/shop/bow-earrings/;
Raspberry Taste Geometric Clip-on Earrings http://www.kivimeri.com/shop/raspberry-taste-geometric-clip-earrings/
Our Mermaid Necklace is a must have piece of jewelry for your next beach day. With lovely aqua coloring that will remind you of the Caribbean Sea, the hint of mermaid scales will give you the appearance of a sea-going siren.
Pair the Mermaid Necklace with these Nautical Earrings for a shimmering look that is bound to attract some attention. With the same teal, mermaid scale pattern, the earrings also include a tiny anchor and starfish charm for cuteness beyond measure.
KiviMeri's Bow Earrings with a tiny crown will bring out the princess in any girl who wears them. These come in a variety of colors to match them to your favorite outfit. They would make an adorable matching mother-daughter accessory.
Raspberry Taste Geometric Clip-on Earrings are perfect for your next picnic with their fun, fruity colors. The angles in pink and green that our designers have created in this set are eye-catching.
If au natural better describes your summer style, you will fall in love with our amazing wood jewelry collection. With natural substances in lovely patterns, each piece is handcrafted out of hardwood and gemstones.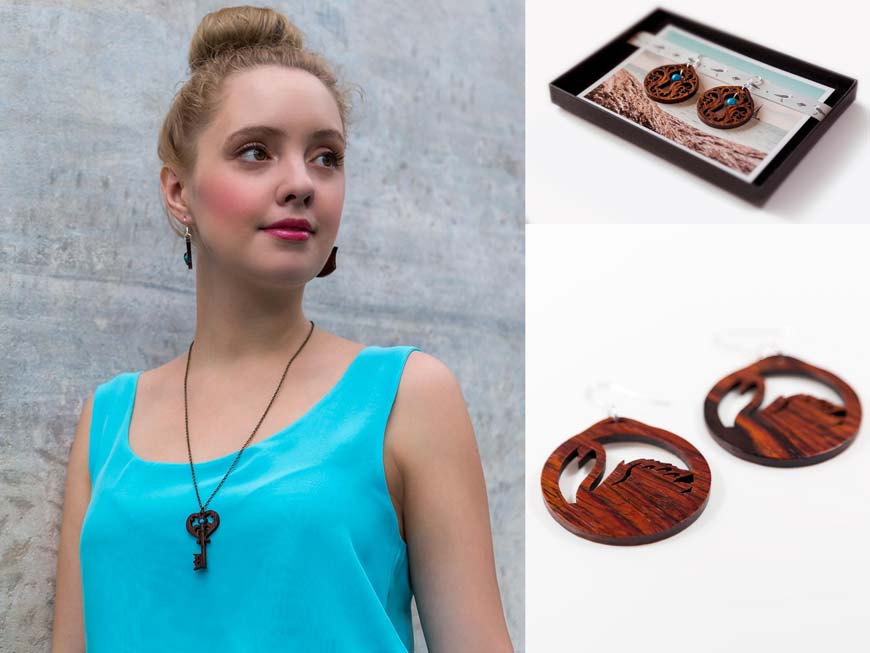 Key Necklace http://www.kivimeri.com/shop/key-necklace-turquoise/; Kiss the Sky Turquoise Earrings http://www.kivimeri.com/shop/turquoise-earrings/; Wooden Swan Earrings http://www.kivimeri.com/shop/swan-wooden-earrings-sterling-silver/
The Key Necklace is a whimsical example of this natural style. Match this with any summer outfit and look ready to open the door to a far away fairyland.
Maybe the key fits the lock on our Kiss the Sky Turquoise Earrings that are a beautifully crafted wood design surrounding a single stone dangling within a keyhole shaped opening.
For a unique and exotic look, wear Wooden Swan Earrings. Crafted from Cocobolo wood, you will not find a piece of jewelry like this anywhere else.
Look no further than KiviMeri.com for special jewelry to add a spectacular touch to your summer wardrobe!