Photos by KiviMeri, House of Holland, Net-a-Porter
No one likes to feel that they are missing out on a trend, but some trends are incredibly difficult to predict. Jewelry trends in particular are notorious for being kept very secret, and designers are very careful, trying to make sure that absolutely nobody finds out what they are planning for the next season.
That doesn't mean, however, that we have no idea what is coming next.
In fact, we have a pretty good idea what designers have in mind for their jewelry collections in 2015, and we thought we would share some of them with you.
Not all of them will tickle your fancy, but you should be able to incorporate most of them into your accessorising in 2015.
Wood Wise
For a start, instead of focusing completely on metals, the new jewelry styles that are about to hit the runways and about to hit the stores are going to be ignoring gold, silver, and chrome to something a little more natural.
Hand crafted wood is going to be incredibly big this season, especially when contrasted with semi-precious stones such as amethysts, sapphires, and turquoise. By putting these two contrasting materials together, an unexpected beauty to the jewelry really shines out.
The hand crafted wood in the best jewelry will be sourced from sustainable forests, so if you want elegance without the guilt, always make sure that you find out where you wooden jewelry has been sourced from.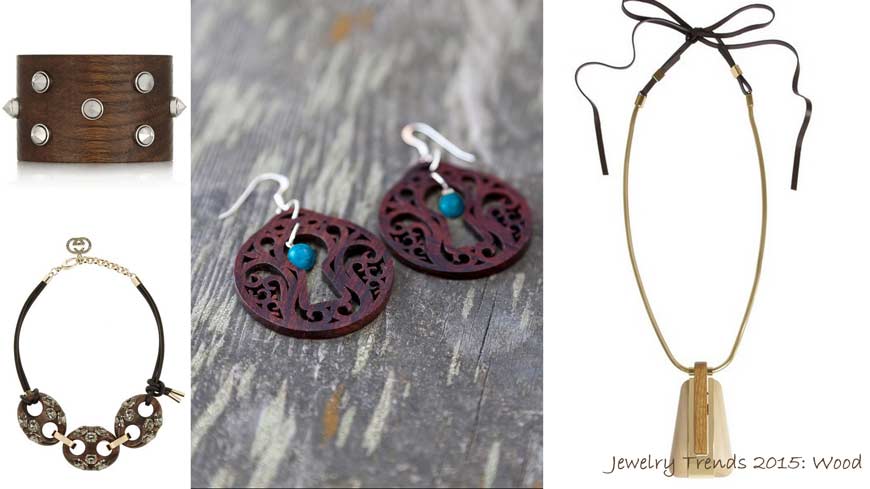 Alexander McQueen bracelet (net-a-porter); Gucci necklace (net-a-porter); KiviMeri Wood and Gemstone Jewelry; Lanvin wooden necklace (net-a-porter)
Carved
An element that has been seen on the catwalks more and more the last few months has been bone: you read that right, bone.
The texture of treated bone or horn is very soft and smooth, and many of the jewelry collections that we have seen that include horn pay homage to their origins fabulously by teaming the bone with animal designs.
Some of our favourite have been pendants with a simple horn carved to an intricate design. After all, you can never beat simplicity.
We think that wood and horn are becoming more popular because of their ties to nature.
Feathers and natural fabrics such as linens and leather have always been in vogue, but now it is the time for slightly more earthier materials to come to the foreground.
If you want to really show how instep you are with style with AW'2015 & SS'2015 seasons, then wood and horn are the way to go.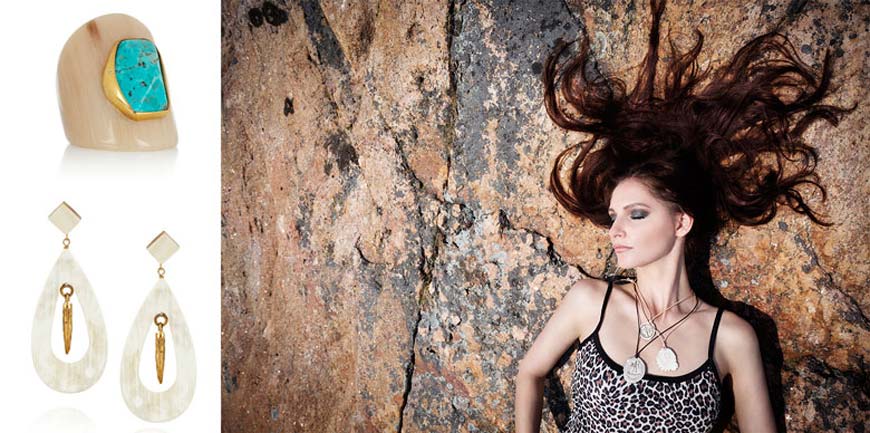 KiviMeri Prehistoric horn necklaces; Ashley Pittman earrrins and ring (net-a-porter)
Quirky Plastic
If, on the other hand, you want to swing the complete opposite direction, you are in luck: plastic is back.
Those of us that remember the eighties would probably wonder if plastic ever left, but now it is back with a passion.
Many people believed that plastic could never be made into something beautiful, but you just want until you see some of the amazing jewelry designs that will be hitting us next year.
The use of laser cutting machines mean that you will see more and more geometric designs that look more at home on an architect's desk than around your neck, but before you know it, absolutely everyone will have one. Now is the time to get ahead of the crowd.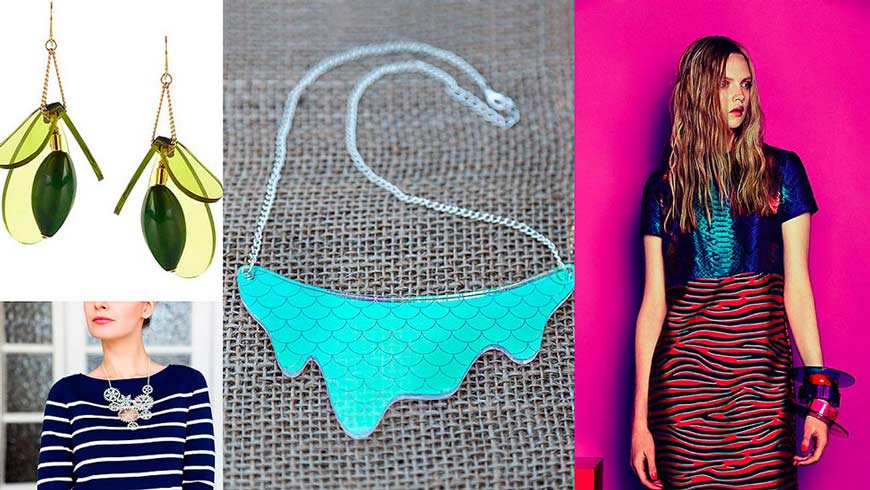 Marni earrings (net-a-porter); KiviMeri Lumi Necklace; KiviMeri Mermaid Necklace; House of Holland lookbook
Jewelry is one of the few parts of fashion that will always surprise and delight.
After all, there is only so many times that you can re-design a dress, but rings, bracelets, and necklaces are completely malleable and new every season.
Don't get left behind in the fashion stakes this year: keep your eye out for these top 2015 jewelry trends!